Buying real estate in or around Hot Springs, Arkansas, is a wise investment. It is a progressive community and, yet, has a home town feel with numerous buildings listed on the National Historic Register.
In fact, our own office presently has a beautiful home at an affordable price listed on the MLS that is on the National Historic Register. Don't miss out on touring this lovely, 3,460 sq. ft. home, MLS # 115012, in the heart of Hot Springs on picturesque Prospect Ave. Call us today!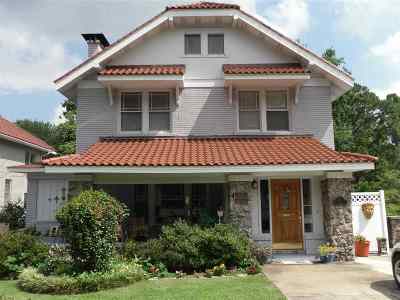 719 Prospect Ave., Hot Springs, AR 71901
The Hot Springs downtown area is unique in so many ways. Downtown Central Ave. was listed in the 10 Top Great Streets in the Nation in 2014. The old-world charm of our city can be seen from every vantage point as you stroll down Central Ave. Great scenery, beautiful mountain backdrop, superb restaurants, charming shops, and of, course, the renown bathhouses are all to be enjoyed throughout the whole year by residents.
Visit Hot Springs if you are considering moving to Arkansas, relocating within the state, or looking for business investment property. It has so much to offer for young families, as well, as retirees looking for the ideal place to enjoy the rest of their lives.
We look forward to helping you find your perfect property. Call us today: 501-321-1277. You will love living in the Hot Springs area.